JETAABC is excited to invite high school students learning Japanese to participate in the Metro Vancouver Japan Bowl. The Japan Bowl® is a Japanese language and culture competition for high school students who are studying Japanese. The Japan-America Society of Washington DC organized and hosted the first Japan Bowl in 1992. The competition has since been expanding overseas and is now held in Poland, England, Italy, Mexico, Serbia, Bulgaria, France, etc. The inaugural Canadian Japan Bowl was held in Vancouver in 2018.
Teams comprise of 2 to 3 members. During the competition, questions are read out verbally in both English and Japanese. The top three teams from the Preliminary Round will proceed to the Championship Round.
Check out this video to get an overview of the Metro Vancouver Japan Bowl.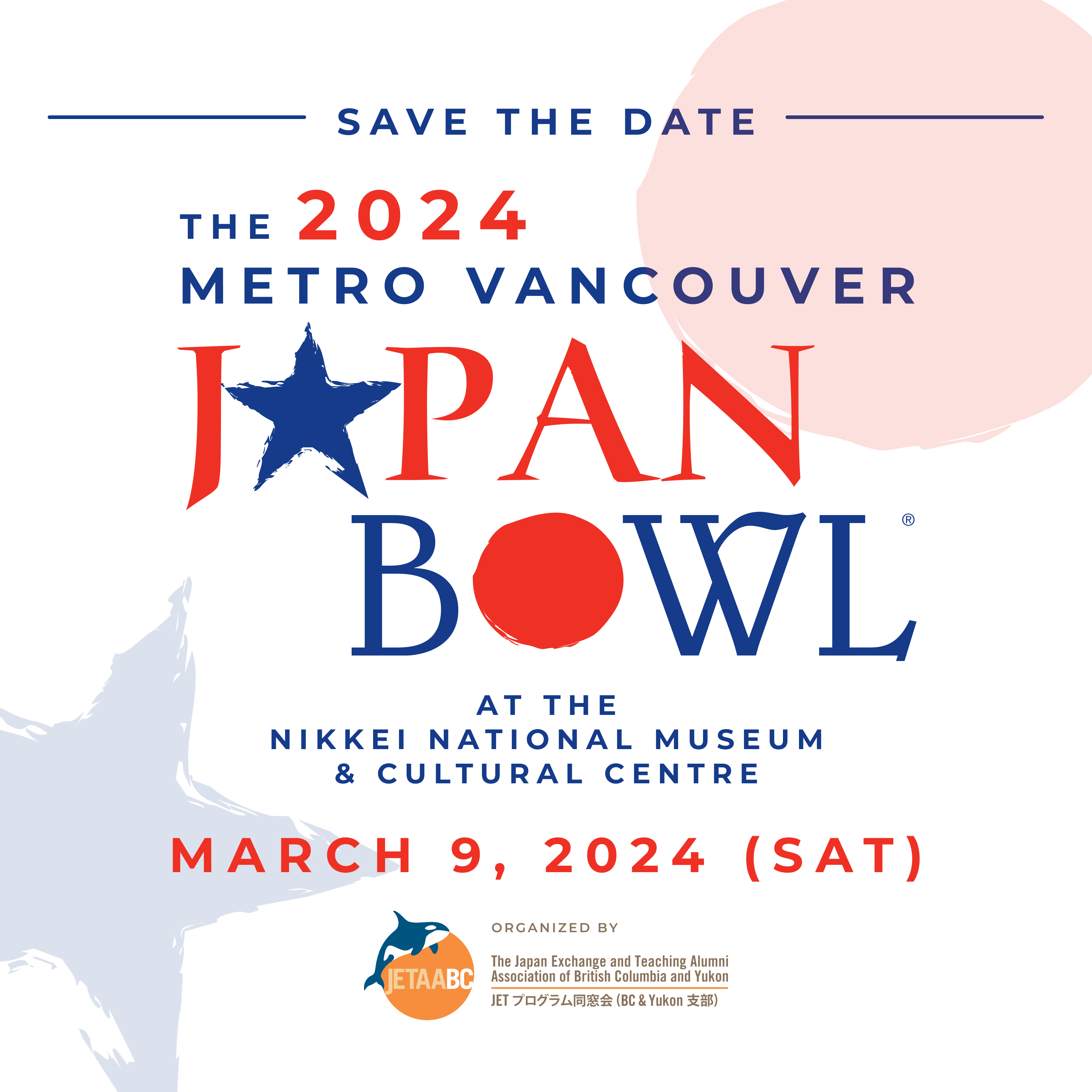 Metro Vancouver Japan Bowl 2024 Team Registration
Team Applications are to be submitted by the teacher.
Eligibility
Canadian students who study Japanese at the high school level are eligible to compete at the Japan Bowl.
Students who are native speaker of Japanese or who use Japanese at home are not eligible to compete.
Students who have had significant exposure to Japanese language and/or culture outside the high school curriculum are not eligible to compete. For example, students who have spent a cumulative total of three months or more in Japan might not be eligible to compete.
Application Process
Students form teams of two or three.
Applications are submitted by teachers on behalf of students.
Schools may register up to a maximum of TWO teams (on a first come, first serve basis).
Registration opens early January.
Registration Fee: $20 per team until January 31, 2024, then increasing to $30 per team
Pay competition fees to confirm registration. Link will be found on the registration form, available in January.
Application Deadline: Friday February 16, 2024.
NOTE: Please note that images and videos taken during the event may be used for reports, SNS, etc.
2024 Metro Vancouver Japan Bowl Details
1.Date and Location
Date: Saturday March 9, 2024.
Location: Nikkei National Museum & Cultural Center
2.2024 MVJB Topics
Basic Topics:
Manners & Body Language (etiquette)
Daily Customs & Home Life
Current Events & Canada-Japan Relations
This Year's Special Topics:
History: Edo & Meiji Periods (1600-1912)
Geography

Major bodies of water, mountains and regions
Native plant and animal species
Climate, weather and common natural disasters

Japan's Regions- festivals, sites, history, products: Aomori, Iwate, Miyagi, and Fukushima Prefectures (aka Mastu Province during Edo period)
Seasons in Japanese culture: Winter
Society: Commercial Trains and Train Lines – Culture, Geography, Business & Vocabulary (A) Culture: Ekiben, Shinkansen Cleaning, Tetsukatsu, Commuter & Tourism Passes; (B) Geography: Major lines, stations, and sightseeing trains + train statistics; (C) Business: Major companies & organizations; crisis management (D)Vocabulary & Signage
Contemporary Culture: Performing Arts & Film (Traditional performing arts/ Cinema since 1899)
Special Topic: Games & Gaming
Click here for the 2024 Metro Vancouver Japan Bowl Study Guide.
Interested in supporting the competition in other ways?
Organizing Committee & Volunteers
The Metro Vancouver Japan Bowl team is looking for enthusiastic volunteers interested in working with the Organizing Committee to make 2024 Metro Vancouver Japan Bowl a success. Pre-event volunteering is already underway and will continue until the event on March 9.  Also, there are still some vacancies for day-of volunteers.  Fill in the volunteer form to let us know which area(s) you would be interested in helping out, click here.  If you have questions or would like to learn more, email metrovancouverjapanbowl [at] gmail.com.
Event Sponsors & Partners  
Would you like to contribute prizes or goody bag items?  As a sponsor/partner, your logo would be displayed at the event and in event publications. If you are interested to learn more about the different opportunities or have questions, please email metrovancouverjapanbowl [at] gmail.com.
Performers & Workshop Instructors
In additional to the competition, the day's programming includes performances by local artists as well as cultural or skill workshops that enrich student's experience with different aspects of Japanese culture. If you would like to learn more, please email metrovancouverjapanbowl [at] gmail.com.